Archived News
Rainier WW
(Gazal Al Shaqab X Mahogany Saarah)
U.S. National Contender Arabian Western Pleasure Futurity with Liz Bentley of IIB Farms.
Thank you Liz, we are so excited!!!
---
Michian Arabian & Half Arabians Breeders Futurity
September 19th, 2009. Judged By Andy Sellman
Justinian WW
(Justify x ATA Versonnett)
Weanling colt first place Jr. Weanling Colt and Champion Weanling.
Jeweled Image
(GLF IN His Image x Selket Royal Jewel )
1st place Half-Arabian Filly and Champion Half-Arabian over all Ages.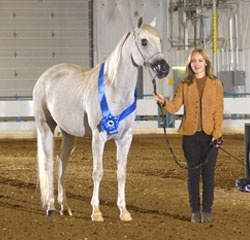 Forrester
1st place 4yr old gelding and Reserve Champion Gleding.
Thank you Brittney Wright for a great job! Brittney has been working with Forrester this summer has a summer project, a job well done this was his first time in the show ring under saddle, will make a wonderful amateur horse for the an experienced amateur or youth who is working with a trainer. He has been under saddle for a year but had the winter off. He is a great guy loves the show ring and likes to work but needs a consistent routine. Also a great halter horse, and could do hunter also.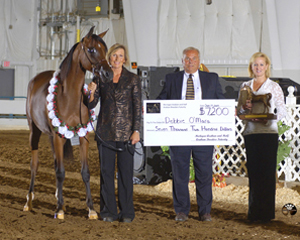 ATA Amanda
(Major Jamaal x ATA Versonnett)
Jack Pot class win Filly 1st place Yearling Filly and Champion Yearling
---
Congratulations to Cathy Turcotte of Windsor VT on her purchase of Branigan. Cathy aspires to ride Branigan in the Tivis Cup. Good luck to you both. Branigan certainly has the talent.
---
Rainier WW
(Gazal Al Shaquab x Mahogany Saarah) Will be shown by Rory O'Neill at the 2007 Scottsdale Show.
[Click here to view photo gallery]
---
| | |
| --- | --- |
| | |
| Alley BA Sensation | Just My Precious |
The girls will be traveling together to their new home with Colleen and Patrick Treloar. Colleen has been away from the showring for 7 years. She is the former owner of Mahogany Shade. Welcome back Colleen! Congratulations on your purchase of two beautiful prospects. Thank you to both of you. It is always though to sell the horses you have raised and loved, but finding the right people makes all the difference.
---
Congratulations to Boeginszkia's new owners Barry and Denie Patrick of Patrick Arabians of Springfield, MO. We wish you much success. Boo will be in training with Jennifer Jones. We do, however, look forward to Denie showing Boo herself in the near future. Thank you for giving Boo a wonderful home.
---
January 2004
Congratulations to Mysteryanna's new owners Neal and Lois Brady of Hillsdale, Michigan. Mysteryanna will be a fabulous addition to there National level sport horses program . We look for her to accomplish great things in the show ring and as a brood mare. We wish them the best. Mysteryanna produced a beautiful grey high stepping filly by Fox Fire BHF.she has a beautiful head,long neck,great tail carriage .A very tall elegant filly that trots on air. She is also one of eight Fox Fire Futurity contenders.
---
EAI Talraffa foaled with our first Straight Egyptian filly x Sensai (The Desperado x Imperial Marresiy) and she is gorgeous! This is Sensai's first foal for 2003. He is sure to be a sire of significance. We are calling her Sidney and she is to die for beautiful. From head to toe she is perfect in every way. We are looking forward to presenting her a the 2004 Egyptian Event. We have had wonderful response from everyone who has seen her photos on Sraighteygptian.com. She is fabulous!
---
May 17 2003 Its a filly! Our lease mare Selket Khadence has given us another filly. Last year by BKA Rashiiq and this year by Gai Monarch. We purchased the Gai Monarch breeding at our AHAM Stallion Futurity Auction 2 years ago and were unsuccessful in getting our mare in foal for 2002 so we selected a different mare and tried again. So look out futurity competition this filly is a real looker, Bey with a star, huge eyes very refined. She is going to blow everyone away.