News
| | | |
| --- | --- | --- |
| | | The Amazing Sultaness WW (Sultan GK x Pashmena WW) |
| | | |
| --- | --- | --- |
| | | Sultaness WW - Stunning black filly by the fabulous Sultan GK (WW Stivallea x Al Magna). Sultan Gk is sired by our own WW Stivallea (Stival x Arwen WW) who was exported to Israel as a 2yr old and has proven himself in the show ring with 2 Israeli National Gold Championships and to be an incredible sire. Now his son Sultan GK who was Scottsdale Unanimous champion Stallion 2019 and Vegas World Cup high point Stallion 2019 is siring greatness himself. |
The Amazing Sultan Gk after he won Scottsdale Unanimous Champion Stallion 2019

He also was High Point Stallion at Las Vegas World Cup 2019

US Nationals Contender with Andy Selman
News! Polarr WW (Pogrom x GA Psypress) Pardons Psyche

All jazzed up and ready to go on his first 12 mile in Endurance ride which he competed and won at Metropark Express over the weekend of September 28, 2019. Congratulations Shannon Weston!

Who says an Endurance horse can't be a head turning Hottie! He is headed for Greatness!!
Rainier WW and his soul mate Alicia Bondar.

A story book relationship that every little girl dreams of when she says she wants to own her very own horse. We can't thank Alicia and her family enough for making Rainiers dreams come true of having his very own special person to love too. Their talent together is amazing and their devotion to each other makes it look easy no matter what discipline they choose to do. Congratulations Alicia for another incredible show season!!
Pashmena WW

(Bahaa AA x Gisele WW)
2016 Grey Arabian Filly

Congrats on a Beautiful Reserve in Yearling Fillies Great Lakes Arabian Trifecta held at the WMAHA Fall Classic with Trainer Cathy Murphy-Economy.

Thank you Brittney Wright for your wonderful conditioning of this incredibly beautiful filly and taking such great care of her while at Full Moon Arabians.
RD Thyme-X

(Pyro Thyme SA x RD Falcons Fanci)
2007 Bay Mare

Wins Hunter Maiden Mare Class at WMAHA Fall Classic, Region !3 qualifier, Congrats to Amber Wesolowski of AE Performance Horses for a beautiful ride!
We are excited to announce that the following mares are in foal for 2018.

Gisele WW x Baha AA
Selket Royal Jewel x Prometeusz (FA El Shawan x Pianissima)
Arwen WW x Fadi Al Shaqab
Laurent El Gazal

(Lawrence El Gazal x Arwen WW)
2016 Grey Colt

Laurent El Gazal will be making his début at Israeli Nationals in October 2017 for his new owners Al Awaiel Arabians.

We wish you the best of luck!
Congratulations Alicia Bondar and Rainier WW on you Region 14 Top 5. Rainier is so lucky to have such a caring and kind young lady for his friend and owner.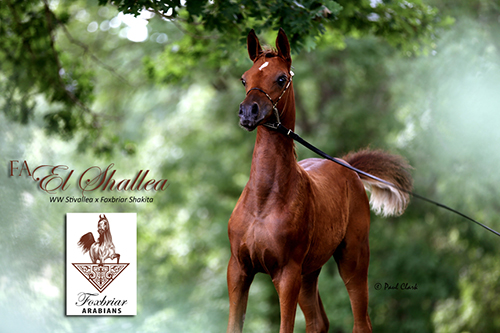 Congratulations to Foxbriar Arabians, George and Marlene Rieder on their beautiful filly FA El Shallea (WW Stivallea x Foxbriar Shakita). FA El Shallea is his first born foal and we look forward to seeing the rest of his first foal crop to be born in Israel fall of 2013.
Congratulations to Faisal Fahad Al-Sulaim on their purchase of the beautiful Layla WW (Da Vinci FM x GW Marlinda) and her 2014 foal by National Champion Stallion Legacys Renoir+.We would like to wish you great success with this lovely young mare and her future foals.
Congratulations to Juan Marcos Perez Mari of Villabermosa.Tab, Mexico on their purchase of the beautiful young stallion Bolero WW (KM Bugatti x Luminesa)
Congratulations to Rashed Ahmed Al Hofaity of the United Arab Emirates on their purchase of GW Marlinda. She will be a wonderful addition to your breeding program, and we look forward to seeing her beautiful babies in the future.
Congratulations to WW Stivallea for his Scottsdale Top Ten in Signature Stallion 2yr old colts ATH. Thank you Zach Peacemaker for a great job!
A beautiful new filly arrived on Feb 15 (A Jakarta x Arwen WW) photos coming soon
Petra WW
(Rough Justice x GA Psypress) x Padrons Psyche
Scottsdale is just around the corner and Wildwood Arabians is proud to send another stunning beauty to compete in Scottsdale International yearling fillies with Joao Rodrigues and PCF Arabians. She is everything that her pedigree says she should be. You will fall in love with this charismatic filly.
We also are highly anticipating the arrival of another filly out of GA Psypress by Escape IBN Navarrone D due 05/2012
Look for this gorgeous girl at the Vegas World cup Breeders Futurity 2013.
Congratulations to WW Stivallea on his UNANIMOUS WIN!!! Region 5 Yearling Colt with Joao Rodrigues. Thank you Joao for a GREAT SHOW!! Stivallea was truly a happy boy and proud of himself. He was ready to IMPRESS…
Aireonna WW (Marhaabah x Arwen WW) 
Our congratulations to the Aireonna's new owners in Dubai. We know that she will bring to them great joy and success. A piece of our heart will always be with her.


This was my first time I ever showed my own horse in a class A show and to be able to get a Top Ten Amateur Owner to Handle with ATA Amanda at Scottsdale was Great!! I was so nervous and then to have to run that fast to keep up with Amanda was quite an experience. Clearly I need to start working out again. I have a whole new respect for the trainers they make it look so easy, Its Not!!
Aireonna WW (pending) (Marhaabah x Arwen WW sired by DA Vinci FM)
Stunningly beautiful 2010 filly,  Aireonna is a look alike of her Dam Arwen WW. A treasure for the any serious breeding program.


We are proud to announce the arrival of the 2010 colt out of Arwen WW by National Champion Marhaabah!
Born March16th, 2010!


Beautiful 2010 foal by our lovely mare Arwen WW!
Dark bay filly by National Champion Marhaabah pictured at 2 weeks old.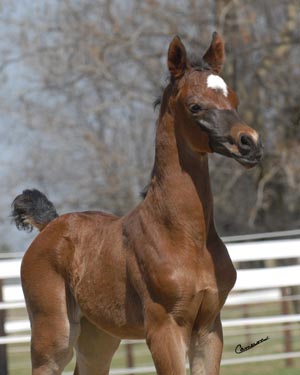 We are so excited about theses exquisite 2010 babies!
This is the third foal out of Arwen WW, a bay colt by World Cup Champion Stival! (pictured at 3 days old.)
Sharifa WW

(Sensai x EAI Talraffaa)

2003 Grey Mare


Exported to Spain

Congratulations to the new owners of Sharifa WW! We wish you the best of luck and know that she will bring you as much joy as she has brought us!
EAI Talraffaa

(Talmaal x Raffaalaa)
1993 Grey Mare

Congratulations to the Paradise Egyptian Stud on the purchase of EAI Talraffaa. This amazing mare has brought so much love in our lives and we know she will do the same for you!
Aragorn WW

(Carnegie D x Arwen WW)
2008 Grey Gelding

A thank you goes out to the recent buyers of Aragorn WW! Out of our own Arwen WW, Aragorn is sure to bring you straight to the top. We wish you the best of luck in the ring!